According to legend, Sansoo was originally developed by monks 2000 years ago in Kwan Yin Temple in Guangdong province. The unarmed monks were regularly set upon by bandits when they were taking the food and money they had collected and which they needed they need to survive back to the temple. The monks developed the system for self-defence and it eventually evolved into what is known as sansoo.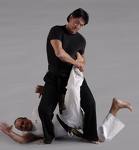 Chinese Grand Master Jimmy Woo took the art with him to the US in 1937 and opened his forst school in Los Angeles' Chinatown in 1962. It is from that point that sansoo became popular with people in the West.
There are no set patterns in the system and it is a highly adaptable style.It is based on a sound knowledge of physics - using principles of leverage, power and speed - and has two main aims: to disable or criple an opponent within three strikes, and to end the fight in no more then ten seconds.
The basic beginning lessons of San Soo employ 5–10 movements or strikes, while advanced lessons as few as 3 moves. These techniques are mostly made up of Chin Na leverages, Throwing, Choking, Joint-locking, Strangling, Da, or strikes, and quick Takedowns. These are practiced and applied selectively by the practitioner in sparring sessions (freestyle workouts), in order to build an automatic response in the mind and body, in much the same way as one picks and chooses what words are appropriate to use in a free flowing conversation. There are a myriad of targets on the human body including the eyes, nose, throat, base of the skull, neck, liver, spleen, kidneys, groin, and knees, many of which are commonly banned from sports styles. Forms were traditionally 360 moves, but are broken down into 26 moves a month so the practitioner can assimilate them easier.