Emei is a comprehensive system that includes empty-hand and weapon forms. It also utilizes martial arts strategy, spacing, and blending to achieve maximum combat effectiveness and proper self-defense. It provides both external training for the body, and internal training to cultivate the individualís life energy.
Major systems are Shaolin, Wutan, Emei, Henan, and Fukien. Just like these other systems, a range of Kung Fu styles have descended from Emei Quan.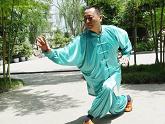 Emei Quan is famous for its animal styles, most particularly monkey style and its unique southern styles. Low stable stances with little hopping are characteristic of this style. Jumps are executed very lightly and quickly and its movements are very diverse.

Many of Emei Quanís deadly techniques are derived from the use of the wrist. Emei Quan is a system designed to train your body, develop your mind, cultivate good spirit, and refine your character through persistent training and practice.