Chuo Jiao (戳腳, literally "poking foot") originated in the Northern Song Dynasty (960–1127) and became popular during the Ming and Qing Dynasties (1368–1911).It comprises many jumps, kicks, and fast fist sequences. The fist and feet work in unison and strike continuously forward, like "falling meteorites", never giving the opponent a moment to recover. The qinggong portion of this style's training involves a practitioner jumping against a wall with heavy weights affixed to his/her calves. This style is practiced mainly in central Hebei, northern China, Beijing and Liaoning in North-eastern China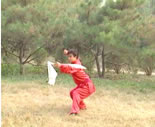 It is characterized by its exquisite and compact stances and clear-cut, accurate and varied movements. It is also very fast in delivering both fist and feet blows. The scholarly style features such routines as 12-move Chuan, 18-move Chuan, flying swallow Chuan (small flying swallow Chuan), arm Chuan, turning-ring Chuan, jade-ring Chuan, six-method Chuan, two-eight Chuan, two-eight feet plays, 16-move Chuan, 24-move Chuan, 32-move Chuan, soft tumbling Chuan, one-legged 80-move feet plays, one-handed 81-move fist plays, etc.

The martial-scholar tumbling Chuan has combined the strengths of the martial and scholar routines, especially the combative techniques. It is arranged according to the rhythms of offence and defence of the martial arts and combines high-low, release-catch, extension-flexion and straight-rounded movements. Its tricks, combinations of motions, still exercises, hardness, suppleness, substantial and insubstantial moves are well planned and accurate. New tricks include ground skill feet poking, feet poking tumbles, Shaolin feet poking, leg flicking feet poking, free-mind feet poking, eight-diagram feet poking, etc. All these have their own styles, forms, rhythms and techniques.