Mizongyi 迷蹤藝; literally "Lost Track Skill" based on deception and mobility.
As with most styles, there are many colorful stories about the legendary creation of Mizong. One of these traces the origin back to one day in the Tang Dynasty when a Shaolin monk chanced upon a troop of apes chasing each other in the mountains. He noticed that the attitude and movements of the dominant apes coincided with the spirit and techniques of kung fu. Enlightened by what he saw, the monk went back to the monastery and integrated his new insights with Shaolin Kung Fu to create Mizong.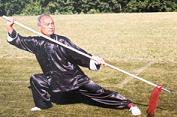 Another legend takes place during the Northern Song Dynasty (960–1127) when a famous and wealthy kung fu master named Lu Junyi learned Mizong from the Shaolin priests and then taught it to his student, Yan Qing. Yan Qing's mastery of Mizong earned him fame and he joined the Outlaws of the Marsh, a "Robin Hood"-style band which robbed the rich, helped the poor, and consisted of 108 legendary martial heroes who revolted against the emperor. Everyone knew of Yan Qing's prowess, but none could discover what style he practiced, so they called it Mizong meaning 'Lost Track'. A variation of the tale has him fleeing in a snow storm from the emperor's warriors. To cover his tracks, he moved backwards with his feet and spread the snow over his tracks with his hands, thus prompting the name lost track. Even to this day, practitioners in Shandong Province call their art Yanqingquan to honor him.

Mizong Luohan combines the hard and the soft; Dodging, springing, and shifting like a leopard changes its moves; Jumping and changes of steps are elusive; Spectacular leaps back and forth simulate the tiger.

Mud-tilling steps are just too swift for the opponent The left foot has hardly landed and the right follows; The right foot has yet to step down but the left sets in.

Internal power is generated by dropping the shoulders and elbows. Hands going up like lifting a caldron or a sparrow piercing through the bushes. Hands coming down like splitting a brick or a swallow gliding over the water.

Embrace, get in, reverse, glue, roll, snap, and lift. Stick-pull, grab, up-push, intercept, hammer, deflect and squeeze. Movements of the hands, eyes, body and the steps are well coordinated in all strategies. The spirit, the poise and the grace flow like waves of the sea.