Known as "Long Fist" a general term for external (as opposed to internal) Northern Wushu.Emphasizes fully extended kicks and striking techniques, and by its appearance would be considered a long range fighting system. In some Long Fist styles the motto is that "the best defense is a strong offense," in which case the practitioner launches a pre-emptive attack so aggressive that the opponent doesn't have the opportunity to attack.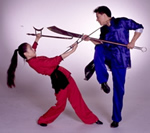 Long Fist uses large, extended, circular movements to improve overall body mobility in the muscles, tendons, and joints.
After advanced study, a Long Fist practitioner will find that its forms contain Qin Na joint-locking techniques, as well as Shuai Jiao throws and takedowns.

The Long Fist style is considered to contain a good balance of hand and foot techniques, but in particular it is renowned for its impressive acrobatic kicks. Of contemporary wǔshý events, Long Fist techniques are most popular and memorable with its whirling, running, leaping, and acrobatics. Chanquan moves are difficult to perform, requiring great flexibility and athleticism comparable to gymnasts.

Long Fistís arsenal of kicks covers everything from a basic front toe-kick to a jumping back-kick, from a low sweep to a tornado-kick. Specifically, typical moves in modern Changquan include: "whirlwind kick", "butterfly jump","side somersault","flying jump kick".
Stances
High Tiger
Low Tiger
Rooster
High Lotus
Low Lotus
Bow and Arrow
Horse Stance
Empty - similar to the Cat Stance
Tai chi - similar to Empty, but with toes up and heel on the ground
Half Horse Stance (Lead foot turned forward)
Weapons training
Long Staff
Broadsword (Dao)
Double Edge Sword
Spear
Chain/Nine Section Whip
Dragon Phoenix Sword
Umbrella
Straight Sword (Jian)
Double Sword
Double Broadsword
Pudao
Meteor Hammer