The term Italian school of swordsmanship is used to describe the Italian style of fencing and edged-weapon combat from the time of the first extant Italian swordsmanship treatise (1409) to the days of Classical Fencing (up to 1900). Although the weapons and the reason for their use changed dramatically throughout these five centuries, a few fundamental traits have remained constant in the Italian school. Some of these are the preference for certain guards, the preoccupation with time (or "tempo") in fencing as well as many of the defensive actions.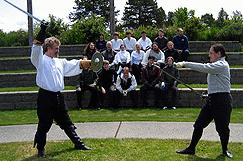 Today, the Italian school of swordsmanship is carefully preserved both in Italy and abroad. In Italy, official fencing schools such as the National Academy (Accademia Nazionale) certify masters in both historical fencing and modern fencing based on careful adherence to the principles of Italian swordsmanship. Abroad, the Italian style is cultivated by professional institutions such as the San Jose State fencing program (California, USA), where Maestro William Gaugler runs a program largely based on the Classical style of Parise.

The Historical European martial arts and the Western Martial Arts communities in Europe and the United States have a large number of researchers reconstructing the grappling, dagger, rapier, short sword, sword & buckler, longsword, pollaxe, and spear systems of ancient masters. The reconstruction efforts of these scholars give the martial arts community a chance to learn fencing with full-size, full-weight weapons such as the longsword, the single-handed sword, the spadone, the rapier and many others.