Khridoli is an ancient Georgian martial art.Since the 1980s, several groups initiated a revival of Georgian martial arts from various sources, including practical study and folk memory. In 1989, a Georgian Martial Arts Department was created at the Rustaveli Society. Later in 1990, the Federation of Georgian Martial Arts - Khridoli was formed and named.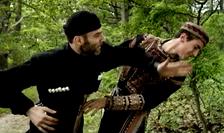 For centuries, Georgia's ability to ward off invaders was due largely to its culture of encouraging martial arts. Georgia was able to endure whole eras in which other numerous countries, both small and large, vanished without a trace. In the course of 3500 years, Georgian warriors successfully withstood enemies attacking the kingdoms of Georgia and were later able to unite the Georgian kingdom.
Until the beginning of 20th century, every region of Georgia held competitions in martial arts and in other sports similar to the ancient Olympic games. The competitions used to be held like military maneuvers in which several thousand men fought by the rules of Saldasti (a special boxing style with additional use of swords and other combat weapon made from wood).

Diversity and multiform features of fighting styles practised in various regions of Georgia had crucial influences on the formation of Georgian Martial arts and its rich culture. Each part of Georgia had its unique military traditions. More than 30 styles of wrestling and boxing have been practiced in Georgia, as well as a wide range of armaments and combat rules. Along with a rich tradition in martial arts, Georgians also possessed a "Warrior Code" that consisted of 365 rules.Due to the need for constant military vigil, these rules were in effect throughout Georgia and actually contributed to the code of conduct and way of life for all Georgians. Unfortunately, in the 14th century, traditions of Georgian martial arts were under serious threat of extinction. After the beginning of the Russian occupation, the empire repressed all aspects of Georgian cultural heritage, and especially military traditions. Moreover, after the second occupation in 1921, Georgian martial arts along with the whole Georgian State submitted to the control of Russian Bolsheviks.

Georgian wrestling and boxing was a major contributing factor for the creation of the Russian Sambo. Throughout the course of 70 years, the practice of Georgian martial arts was strictly banned.