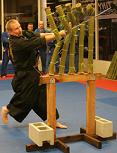 Toyama-ryū (戸山流 ) is a modern form of iai created by the Imperial Japanese Army in 1925 at the Rikugun Toyama Gakko, or "Toyama Army Academy" in Toyama, Tokyo, Japan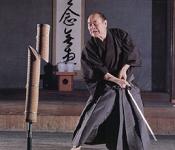 The principles of this modern battlefield sword art are drawn from the techniques and philosophy of the samurai era.It is based on the art of drawing a sword from a standing position, but also incorporates some of the mental and spiritual elements that governed the daily lives of swordsmen of ancient Japan.

Japanese army officers were later issued new swords shaped more like katana. However, not all officers had sufficient background in kenjutsu to deploy these weapons in combat. Consequently, in 1925, a simplified form of sword technique was devised that emphasized the most essential points of drawing and cutting. For instance, the army iai-battō kata differ from those of many koryū sword schools in that all techniques are practised from a standing position. Koryū schools included a number of techniques executed from seiza(sitting). Also, this modern ryū has an unusually strong emphasis on tameshigiri, or "test-cutting." Swordsmen involved in developing this military system included Nakayama Hakudo and Sasaburo Takano.