Nakamura Taizaburo while teaching kenjutsu in northern China he was inspired with the thought that Ejii Happo, the eight rules of calligraphy, could be applied to swordsmanship. As Nakamura Taizaburo practiced the ei character (this is to calligraphy what do-re-mi is to music), he saw in his mind that the eight strokes of the brush traced the trajectory of the word when cutting.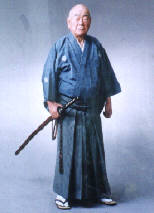 The first brush stroke, soku, is the thrust of the sword tip, the second stroke, roku, is the left and right horizontal cut; the third stroke, do, is the vertical cut; and so on.

When he gazed at the finished ei calligraphy, he could actually see the eight cuts of the sword. Through his years of learning and teaching fencing, he had sensed that there were few cuts in swordsmanship. When he contemplated the ei character, he was made to realize that there are only eight distinct cuts possible; any other technique, whatever artistic name it may have, is only a variation of the theme

Eight chiburi were then incorporated into the system.
The Principle's names and representations are: (listed by stroke order)

1.Cè (側), or "Sideway"
Also known as Dian (點), or "Dot"
Li's name: Guài Shí (怪石), or "The Strange Stone"
Top-left to bottom-right

2.Lè (勒), or "Bridle"
Also known as Héng (橫), or "Horizontal"
Li's name: Yù Àn (玉案), or "The Jade Table"
A straight horizontal line

3.Nu (弩 or 努), or "Crossbow"
Also known as Shù (竪) or erect; Tiěchǔ (鐵杵), or "Iron Staff"
Li's name: Tiězhù (鐵柱), or "Iron Pillar"
A straight vertical line

4.Tí (趯), or "Lifting"
Commonly known as Gōu (鉤), or "Hook"
Li's name: Xiāzhua (蟹爪), or "The Pincer of Crab"
A hook to the left

5.Cè (策), or "Horsewhip"
Also known as Tiāo (挑), or "Lifting off"; Tí (提), or "Raise"
Li's name: Huyá (虎牙), or "The Tiger's Tooth"
A tapering horizontal line thinning toward upper right

6.Lüè (掠), or "Passing lightly"
Also known as Piě (撇), or "Slant"; Wān(弯), or "Curve, Bend"
Li's name: Xījiao (犀角), or "The Horn of Rhinoceros"
A long slightly curvy tapering line thinning toward lower left

7.Zhuó (啄), or "Pecking"
Also known as Duan Piě (短撇), or "Short slant"
Li's name: Niao Zhuó (鳥啄), or "Bird Pecking"
A short tapering line thinning toward lower left
In some illustrations, this stroke represents Wān (彎), or "Curve", even though the curve stroke is different.

8.Zhé (磔), or "Dismemberment"
Also known as Nà (捺), or "Pressing forcefully", and Pō (波), or "Wave"
Li's name: Jīndāo (金刀), or "Golden Dao"
Thickening line toward lower right, where it is "as sharp as a knife" (hence the name "Dismemberment")