(Spanish for "free wrestling" or "free fighting") is a term used in Mexico, and other Spanish-speaking countries referring to a form of professional wrestling involving varied techniques and moves.

Mexican wrestling is characterized by rapid sequences of holds and moves, as well as "high-flying moves", some of which have been adopted in the United States, and colorful masks.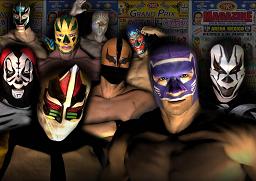 Rules
The rules of lucha libre are similar to American singles matches. Matches can be won by pinning the opponent to the mat for the count of three, making him submit, knocking him out of the ring for a pre-determined count (generally twenty) or by disqualification. Using the ropes for leverage is illegal and once a luchador is on the ropes, his opponent must release any holds and he will not be able to pin him.

Disqualifications occur when an opponent uses an illegal hold, move (such as the piledriver, which is an illegal move in lucha libre and grounds for immediate disqualification, though some variations are legal in certain promotions), or weapon, hits his opponent in the groin (faul), uses outside interference, attacks the referee, or rips his opponent's mask completely off. Most matches are two out of three falls (dos de tres caídas), which had been abandoned for title bouts in North America and Japan in the 1970s.

A rule unique to lucha libre applies during tag team matches, which is when the legal wrestler of a team touches the floor outside the ring, a teammate may enter the ring to take their place as the legal competitor. There is essentially no need for an actual tag to a team mate to bring them into a match. This often allows for much more frenetic action to take place in the ring than would otherwise be possible under standard tag team rules.
Masks (mascaras) have been used dating back to the beginnings of lucha libre in the early part of the 20th century and have a historical significance to Mexico in general dating to the days of the Aztecs. Early masks were very simple with basic colors to distinguish the wrestler. In modern lucha libre, masks are colorfully designed to evoke the images of animals, gods, ancient heroes, and other archetypes, whose identity the luchador takes on during a performance. Virtually all wrestlers in Mexico will start their careers wearing masks, but over the span of their careers a large number of them will be unmasked. Sometimes, a wrestler slated for retirement will be unmasked in his final bout or at the beginning of a final tour, signifying loss of identity as that character. Sometimes, losing the mask signifies the end of a gimmick with the wrestler moving on to a new gimmick and mask. The mask is considered "sacred" to a degree, so much so that fully removing an opponent's mask during a match is grounds for disqualification.