Also known as Lima Lama, is an American-Samoan martial arts system. The term Limalama is translated as "The Hand of Wisdom".Limalama was created and founded by Tu'umamao "Tino" Tuiolosega in the mid-50s. Tino Tuiolosega was born in Tutilia, American Samoa on July 2, 1931 and is the only son of King Tu'umamao Tuiolosega and Saposapoaluga Feagai Poumele Tuiolosega. His grandfather Tagaloa Tuiolosega was the last King of all the islands of Samoa before it was divided and American Samoan became part of the U.S. Territory.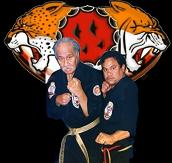 Being the son of a royal family he was required to learn numerous combative techniques of self defense passed down from his father and uncle. This gave him a basis for understanding how body and mind work together as one and merging the concepts with his modern knowledge and skill as a boxer and respected street fighter, he developed a system of martial arts with techniques and forms that maximize an individual's ability. In the 1950s and 1960s he achieved Master Ranks in the five animal styles of Sil-lum Kung fu. In the 1960s, he received a shodan in American Kenpo from Ed Parker.

Development

Limalama is a contemporary martial arts system with roots in ancient fighting techniques. Tino brought Limalama from Samoa to Hawaii and later to Los Angeles in the mid-60s and gained a reputation as one of the most feared competitors of his time. During the 50's formal tournaments were nonexistent and much of his reputation was built on his infamous street matches having defeated the number one street fighter in Oahu, Hawaii people took notice of his aggressive fighting techniques and ruthless unrehearsed demonstrations. He enlisted in the Marine Corp in 1950 and participated in the Inchon landing, receiving a bronze star and a purple heart. He continued developing Limalama and taught hand to hand combat not only for the Marines but also Naval personnel and also participated in boxing and judo matches. As an amateur boxer, he fought over 135 fights, winning 108 by knockout. Some of his titles include All Pacific Inter-School boxing Conference, All Far East, All Pacific Inter-Service, All Armed Forces, Pan Pacific, All Martine, Fourteen Naval District, AAU, and Eleventh District Championships. During the 50's formal martial arts tournaments were nonexistent and much of his reputation was built on street matches and in particular beating the number one gang leader in Oahu, Hawaii.

Parentage

Roots of the System

1. Afitau – the study of warrior's traditions, specifically dance.
2. Amofoe – the understanding of the manipulation of weights, shifting and swaying tactics to off balance weight.
3. Fa'aelise – the study of coordination, reflexes, balance, holds, breaks and throws.
4. Fa'ato'elau – movements similar to wrestling, including holds and tripping.
5. Faufusu or Tu'itu'iga – movements similar to hand to hand fighting, boxing or street fighting.
6. Lua'aga or Le'iga – the study of pressure points, nerves and joints.
7. Milosia – the study of the execution, delivery and application of circular movements; such as locking wrists.
8. Pepelu ma Pega – the study of knife fighting, this is a cutting coordination. This is a conceptual method in the use of weaponry.
9. Uma Ma Taupi'i – the study of holds, breaks and take downs.
10. Vaeta ma Tavae – the study of foot movements such as kicks and foot counter movements.
11. Ti'apega ma Lo'u – the study of Kaoi'a, stick fighting.
12. Talamoa – the study of combining several of the other concepts together.
13. Upega ma Lo'ulo'uga – the study of trapping.

Limalama's distinguishing characteristic is its grounding in historical Samoan/Polynesian martial arts – including wrist lays, hand-traps, and bone dislocation and breaking, along with knife and stick techniques. The art has a wide following in South and Central America with several divergent branches from the original style. There are also a number of schools active in the United States and Europe.