Choi Yong Sul (1899-1986) and his most prominent students; Suh Bok Sub, the first student of the art; Ji Han Jae (born 1936), arguably the greatest promoter of the art; Kim Moo Hong, a major innovator in the art; Myung Jae Nam, who forged a greater connection between the art of hapkido and Japanese aikido and then founded Hankido.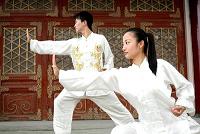 Hapkido is rendered "합기도" in the native Korean writing system known as hangul, the script used most widely in modern Korea. The art's name can also however be written "合氣道" utilizing the same traditional Chinese characters which would have been used to refer to the Japanese martial art of aikido in the pre-1945 period. The current preference in Japan is for the use of a modern simplified second character; substituting 気 for the earlier, more complex character 氣.The character hap means "harmony", "coordinated", or "joining"; 氣 ki describes internal energy, spirit, strength, or power; and 道 do means "way" or "art", yielding a literal translation of "joining-energy-way." It is most often translated as "the way of coordinating energy," "the way of coordinated power" or "the way of harmony."
It is a form of self-defense that employs joint locks, the techniques of other martial arts as well as common unskilled attacks. There are also traditional weapons including short stick, cane, rope, nunchucks, sword and staff which vary in emphasis depending on the particular tradition examined.

Hapkido contains both long and close range fighting techniques, utilizing dynamic kicking and percussive hand strikes at longer ranges and pressure point strikes, jointlocks, or throws at closer fighting distances. Hapkido emphasizes circular motion, non-resisting movements, and control of the opponent. Practitioners seek to gain advantage through footwork and body positioning to employ leverage, avoiding the use of strength against strength.
Hapkido makes use of pressure points known in Korean as 'hyul' which are also used in traditional Asian medical practices such as acupuncture. These pressure points are either struck to produce unconsciousness or manipulated to create pain allowing one to more easily upset the balance of one's opponent prior to a throw or joint manipulation.

Hapkido emphasizes self defense over sport fighting and as such employs the use of weapons, including environmental weapons of opportunity, in addition to empty hand techniques. Some schools also teach "hyung," the Korean equivalent of what is commonly known as "kata" in Japanese martial arts.
As a hapkido student advances through the various belt levels (essentially the same as other Korean arts, e.g. taekwondo), he or she learns how to employ and defend against various weapons. The first weapon encountered is most often the knife (kal, 칼). Another initial weapon used to teach both control and the basic precepts of utilizing a weapon with Hapkido techniques is the Jung Bong (police baton sized stick) Then, techniques and defenses against the [5 cm short stick] (dahn bohng, 단봉), the walking stick or cane (ji-pang-ee, 지팡이), and the rope are introduced in hapkido training. Many Hapkido organisations may also include other weapons training such as the sword (Gum, 검), long staff (jahng bohng, 장봉), middle length staff, nunchaku (Ssahng Jol Gohn, 쌍절곤), war-fan or other types of bladed weapons such as twin short swords.