Bökh, meaning Mongolian wrestling, is a traditional sport for Mongolian ethnic group in China. Local people living in grassland regions call wrestling "Bökh"(meaning "strength, solidarity and durability" in Mongolian). Wrestling is the most important sport of Mongolian people's "Three Manly Skills" (along with horsemanship and archery). "Bökh" is an indispensable activity for important occasions like sacrificial rituals and the Nadam Festival.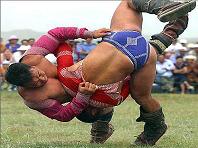 Bökh has a history of nearly 2,000 years. On the bronze plates unearthed from the ruins of the Hun of the early Han Dynasty, there are even motifs featuring wrestling. Originally, Bökh was very much focused on its nature as a military sport, mainly for strength, stamina and skills training. The Yuan-Dynasty Emperors were keen supporters of the wrestling sport. Whenever there were important feasts, wrestlers were invited to add to the fun. And wrestling was a key item for deciding the candidate rankings in imperial martial exams. Outstanding wrestlers were entitled to high distinctions.

Today, bökh is still popular across Inner Mongolia Autonomous Region. It is held in a simple and solemn manner. The number of participants in a wrestling match must be the power of 2, such as 32, 64,512 and 1024£¬etc. When the match begins, wrestlers wave their strong arms and dance into the site by imitating the movements of lions, deer and eagles.

There's no time limit for the match and no weight limit for the wrestlers. A wrestler loses if and when he touches the ground with any part above his knees. The sport of bökh requires good coordination between waist and leg movements. A wrestler is expected to fully display his strength and skills in the match.